Carnet d'adresses « scientifiques » (Opus 1) 1
ou Annuaire des amis potentiels de la Ramification (N° 1 à 8)
(1) Dr Yoav BEN-DOV
The Institute for History and Philosophy of Science
Tel-Aviv University
TEL-AVIV 69 978 ISRAEL

(2) Prof. Aubert DAIGNEAULT
Département de Mathématiques
Université de Montréal
Case Postale 6128, Succursale A
5620 Darlington Cote Ste Catherine
H3C-3J7-Montréal Qué
CANADA

(3) Prof Konrad BLEULER
Nussallee 14-16
D-5300 BONN-1
ALLEMAGNE FEDERALE

(4) Prof Bryce DE WITT et Prof Camille DE WITT (*)
Department of Physics (Son épouse, à joindre)
University of Texas at Austin (par politesse)
AUSTIN
78712 Texas U-S-A

EVERETT étant possiblement retraité (sinon mort),
et ayant quitté la Physique pour des travaux de
calcul numérique (peut-être analyse numérique ? )
on peut (je veux bien le faire) demander à DEWITT son adresse en même
temps que tu lui enverras le tiré à part ; c'est le seul
à ma connaissance qui sache possiblement où est EVERETT

(*) Madame DE WITT étant française, on peut s'adresse au
ménage De Witt en français. Elle est universitaire physicienne
mais ne semble n'être pas personnellement intéressée par la ramification.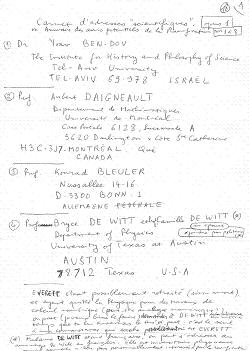 (5) Prof Abmen SHIMONY 2

Center History and Philosophy of Science
Boston University
745 Commonwealth Avenue
BOSTON
02 215 Massachusetts U-S-A


(6) Prof John A.Wheeler
University of Texas
Center for Theoritical Physics
AUSTIN

xas USA

(7) Prof Michel PATY- Université PARIS VII Equipe RHESEIS
Couloir 45-46-2ième étage Faculté Jussieu
(Place Jussieu 75005 PARIS)


8) Prof Marisa DALLA CHIARA
Dipartimento di Filosofia
Firenze
Via Bolognese
FIRENZE (FLORENCE)
ITALIE

PS- Ton prénom est-il le diminutif de Nikos ?
5/11/90
Nik,

Je réponds seulement à 3 questions, les plus
importantes de la lettre du 31/10/90 ;
(1) première liste d'adresses ci-dessus ;
(2) tout-à-fait d'accord pour que tu envoies
un tiré à part à tout scientifique susceptible
d'être intéressé ; seules exceptions rarissimes :
le cas de Henry STAPP, dont la bonne foi est
douteuse et qui est un plagiaire possible; ou
le cas de Jean Marie SOURIAU, opposant systématique,;
cas douteux : LEVY-LEBLOND, opposant peu susceptible
de changer d'avis; pour lui dès qu'on essaie d'être
clair, on est catalogué anti-quantique; il
semble que ce « gardien du Temple quantique » tienne à
ce que soient préservés les Mystères quasi-religieux
de l'Eglise quantique : « ne pas chercher à être trop précis »
(3) Moi aussi je n'aime qu'un seul morceau de J.S BACH,mais pas le même que toi ; c'est la PARTITA pour violon seul.

-J'ai malheureusement égaré
la citation exacte de M. Levy-Leblond :
si je la retrouve je
t'en ferai part.

Ton ami Roland